Racking and stands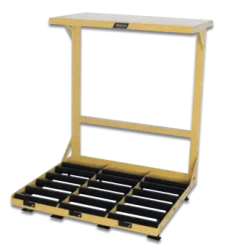 Racking and stands
MCP is an authorized distributor for Battery Handling Systems and they manufacture specialized racking and stands for forklift batteries and chargers. Battery changes, storage and charging can be made easier with this equipment that is manufactured with heavy-duty steel for durability, engineered for countless configurations and designed for operator safety.
Side battery extractors

Side battery extractors
If you are maintaining and servicing batteries in narrow-aisle forklifts, a side extraction carrier is a necessity. Side extractors allow you to remove batteries safely and efficiently with a minimal amount of effort on the part of the operator. Several configurations and optional accessories are available to help you support your battery fleet.
Overhead gantry crate extractors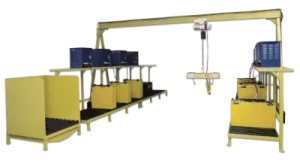 Overhead gantry crate extractors
Gantry cranes provide safe and efficient vertical extraction for most standard lift truck batteries by utilizing vertical space. The crane lifts the forklift battery and provides the operator with full control, minimizing muscle strain while providing enhanced productivity. In some environments, gantries can also allow for better utilization of floor space.
Man-aboard change-out systems

Man-aboard change-out systems
Not all forklift battery extraction applications demand the same handling solutions, equipment, or stacking requirements. We offer a variety of extraction methods with several options available to customize the system for every facility. All units have features that make them the most versatile, reliable, and cost-effective battery extractors for Industry 4.0 applications. For maximum efficiency and space-savings, BEs are also available in multi-level systems.

Kimberly Clark's battery fleet management
Kimberly-Clark in Beach Island South Carolina owns and leases a fleet of 250+ batteries and 130+ chargers. KCBI maintained their battery room with a standard charge and cool rotation. This process was first managed by their forklift operators and...

Converting to opportunity charging at Valassis
Valassis was looking for a solution to free up valuable space in their facility by eliminating their battery changing area. They were also concerned with the safety of their employees changing batteries and the time required to do so.

Making battery watering easy
Over-watering or under-watering your battery are two of the most common causes of battery failure. Over-watering a battery creates spills that deplete the electrolyte level in the battery, leaving the battery acid starved and inefficient. This can...
Shop online for replacement parts and battery handling supplies
Visit the store