Single-point watering systems
Single-point watering systems
Single point watering systems reduce the labor necessary to water your batteries and incorporate a valve system that will open when water levels are low and then close whey the level has been replenished. These systems are easily installed and can be filled by simply attaching a supply hose onto the system with a quick-disconnect valve. The vales include a sight tube to visually monitor the water levels and and access port for quick specific gravity readings.
Watering carts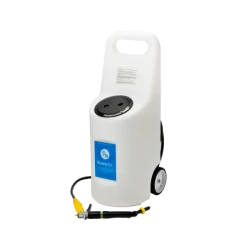 Watering carts
Portable watering carts allow you to service your batteries in places where you don't have a water supply. These carts are battery powered and fully self-contained. They can be used with single point systems or a watering gun.
De-ionizer water purifier
De-ionizer water purifier
Many water supplies, especially those in more rural areas, have a high level of minerals that can negatively affect the lifespan of your battery fleet. Due to this, manufacturers recommend distilled water be used for replenishing the electrolyte in your forklift battery. A de-ionizer provides similar results be removing impurities in your water and helping to prolong the life of your batteries.
Auto-shutoff watering guns

Auto-shutoff watering guns
Single cell water replenishing is the most consistently accurate way to water your batteries. Utilizing flip top covers and an auto-shutoff watering gun you can fill your batteries precisely every time.
Visual water level indicators

Visual water level indicators
Water level indicators utilize a probe that is installed into one of the batteries cells to monitor the water level and provide visual feedback on the state of that level. You can choose between indicators that provide indication of full, low or both as well as battery mount or remote mount configurations.

Kimberly Clark's battery fleet management
Kimberly-Clark in Beach Island South Carolina owns and leases a fleet of 250+ batteries and 130+ chargers. KCBI maintained their battery room with a standard charge and cool rotation. This process was first managed by their forklift operators and...

Converting to opportunity charging at Valassis
Valassis was looking for a solution to free up valuable space in their facility by eliminating their battery changing area. They were also concerned with the safety of their employees changing batteries and the time required to do so.

Making battery watering easy
Over-watering or under-watering your battery are two of the most common causes of battery failure. Over-watering a battery creates spills that deplete the electrolyte level in the battery, leaving the battery acid starved and inefficient. This can...
Shop online for replacement parts and battery handling supplies
Visit the store